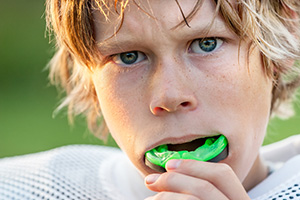 Fabrication of occlusal guards and sport guards
Тhis is a service we are glad to provide. So many people unknowingly suffer from bruxism – the clenching and grinding of teeth, – especially in their sleep, and this leads to pre-mature wearing down of the tooth structure. Besides – grinding your teeth wears you down more than you might think. Frequently paired with sleep apnea, tooth grinding can become a serious problem, aiding long-term weariness, irritation and lack of sleep. But this is not only a question of keeping up with your dental health in your sleep – this is a question of keeping up with it when you're up and active. For people who participate in most contact sports and all forms of martial arts, similar tooth guards are practically necessary.
No one wants to go into a friendly round of jiu-jitsu and wind up missing some teeth, and alas, such things can happen by accident, all too easily. Our guards are specifically tailored to your jaw to make sure that you protect your teeth, without impeding breathing or becoming uncomfortable. Easy to measure for, quick to prepare, easy to use.